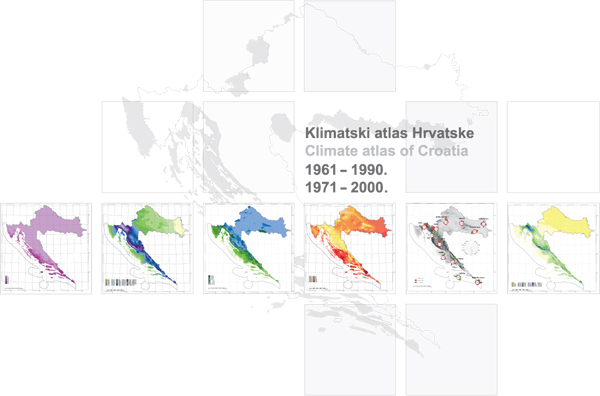 Climate is the natural characteristic of a country. Life and natural processes depend on it and there is almost no human activity which does not depend on weather and climate. Therefore, awareness of particular climate characteristics is especially important when planning development activities in many social and economic areas. Following the recommendation of the World Meteorological Organisation, each member state meteorological service is expected to develop a Climate Atlas.
The Atlas is based on standard 30-year climate periods. For the previous climate period (1931–1960) the area of Croatia was covered by the Climate Atlas of Yugoslavia, published in 1969, and only a small number of maps were published specifically for Croatia in the Croatian Climate Atlas of 1977.
The Climate Atlas of Croatia for the period 1961– 1990, 1971–2000 comprises maps of the spatial distribution of climatological elements, graphs of the annual course of climatological elements at ten chosen meteorological stations and a textual description of the relevant climate characteristics and their causes. It ends with tables of the mean 30-year monthly, seasonal and annual values of climatological elements at 20 stations representative of the climate diversity of Croatia. Because of the time variability of climatological parameters and the perceived warming in the last decade of the 20th century, the tables have been expanded to include the 1971–2000 climate period.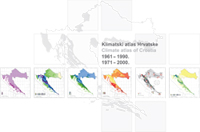 Climate atlas of Croatia 1961 -1990 1971 - 2000

(180 MB)

If you require any further information feel free to contact us. E-mail: dhmz(at)cirus.dhz.hr