The results of ENHEMS-Building action presented on MIPRO 2015 convention
DHMZ, 16. 6. 2015. - On the scientific conference MIPRO 2015 (International Convention on Information and Communication Technology, Electronics and Microelectronics) which was held from 25th to 29th May, 2015 in Opatija the ENHEMS-Buildings action and its results are presented to interested representatives of companies, academic community and public administration on 26th May, 2015 within the thematic discussion Service of building control system enhancement in a computer cloud for economically optimal operation of the building - results of the ENHEMS-Buildings action. The discussion was moderated by Prof. Nedjeljko Perić and the panelists were: Mr. sc. Ružica Gajić (Hrvatski Telekom d.d.), Ninoslav Kurtalj (Elma Kurtalj d.o.o.), Asst. Prof. Kristian Horvath (Croatian Meteorological and Hydrological Service), and Assoc. Prof. Mario Vašak (University of Zagreb Faculty of Electrical Engineering and Computing).
The event has seen an interesting discussion on the way of achieving savings through predictive control in building zones, meteorological support for weather forecasts adapted to locations on site and supported by on-site measurements, implementation of the open building communication system, way of non-invasive add-up of the service on the existing building automation system, vision of the future service in the computer cloud. In the discussion, besides the action representatives, also participated representatives of HEP-ESCO company, Monel company, Faculty of Civil Engineering in Rijeka and public administration in Vojvodina, Republic of Serbia.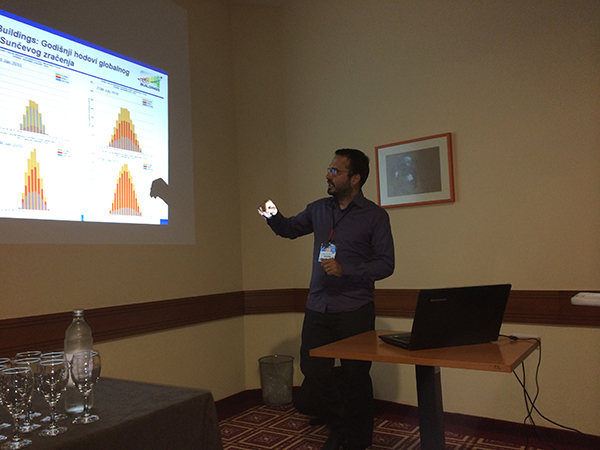 Kristian Horvath presents ENHEMS-Building action on MIPRO 2015